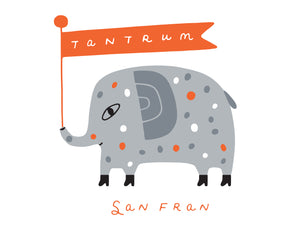 Meet Eli! This little mascot was inspired by Tantrum's cheerful, circusy sign that welcomes all to play. Eli also embodies the friendly and fun-loving spirit of the shop, packed with toys and treasures.  Stop by and say "hi"! (Created by Suzy Ultman) @suzyultman suzyultman.com Suzy Ultman has been creating toys and books for family and friends since childhood. A born storyteller, Suzy is an illustrator, product designer, toy creator, and bookmaker of sophisticated and simple objects that inspire and delight young and old alike. Suzy grew up in Pennsylvania but her life and work have taken her around the world both...
---
This is an ode to times gone by when TANTRUM in Cole Valley was just getting started and we had a tiny store full of highly curated new and vintage items.
"TANTRUM tries it's hand at stop motion. With the very talented direction of Paul Trillo, we were able to bring our store to life in one night. One very long night :) Enjoy!"
 come visit us in the inner richmond!
tantrum toy store in san franciso california 
248 clement street
@tantrumsf
#tantrumsf
---
Tantrum's rare combination of sophisticated style and timeless playfulness makes this toy store as much fun for grownups as for their children. Imagine the color and magic of a 1950s carnival in summer. "Like a big top of yore, the bright colors and bold graphics of Tantrum entice you to enter the spectacle of wonders within." Remodelista. Tantrum's unique character stems from a rare marriage of classic, mid-century style with the best of today's handmade toys, all curated within the theme of a lively, old fashioned circus. Step into these shops to be transported into a time of fun and nostalgic...
---
We are now open for in-store shopping at our Clement st. shop! Our hours are a little wonky for now but we are always open 10-6 at least... when you come down be sure to wear a mask-it is absolutely required the entire time you are in the shop we have hand sanitizer at the door-please use a little on you way in and out please avoid touching items you do not intend to buy you can always order online for same day instore pick up you can still order online for delivery  we are always available at tantrumsf@gmail.com if...